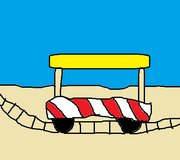 Disney's Journey Through the Cities is a trolley ride located in Main Street U.S.A. of
Disneyland
.
Ride Summary
Ride Line
The ride line is basically outside of the trolley station in chains. It goes into the trolley station where your board the trolley.
Ride
The ride starts out inside in the trolley station, and slowly turns inside the trolley garage. You go into an old 80s village road, and see animatronic villagers working on building a school, baking bread, and playing. The road is made of dirt, and you progress to the next room which is a newer early 20th century road, which is made from stones. It has some city folk walking outside and advertising bakeries, and a chef can be seen baking pizza inside of the pizza shop. You see a newspaper boy shouting "extra, extra, read all about it". Plus, you see old fashioned cars.
You progress to the next room, which is a more updated 20th century town with cinemas, paper makers, and TVs. You see more people living in the town, and the trolley continues. The next room has a modern city, with iPhone stores, 3DTV stores, modern cars, and kids playing DSs on the bench. The next room is seen, which is a futuristic version of a city. There is hover cars above you and kids in electro-suites. Plus there is robots as crossing guards. One of the robots talks to the driver, and you can continue outside back to the station, and get off.
Mechanics
The trolley has an automatic path following a track, and automatically stops at the station. It is slightly similar to the Great Movie Ride from Disney's Hollywood Studios, exept the trolley is a different design and the track is more visable, like a train track.
The animatronics are all VERY similar to the Jack Sparrow one at Pirates of the Caribean at Disney World and Disneyland, so they all look VERY real.
Background Information
The trolley is similar to the ones from outside Main Street, except it goes inside and has a track.
Much like the Great Movie Ride at Disney's Hollywood Studios, there is a tour guide who explains about the cities and villages you see.
Community content is available under
CC-BY-SA
unless otherwise noted.