Disney's Princess Boulevard
is a Disney Princess theme park. This will have all the Disney princesses and their partners, and their allies, the fairies, Alice, and Mickey and his friends.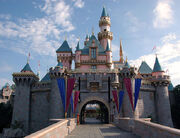 Attractions
Princess FairyTale Castle - This big beautiful castle represents, and is a home to, all the Disney Princesses.
Cinderella's Mice Friends Dress-Sewing Spin - a spinning upcoming Buzz Lightyear flying saucer stlyed ride where you dance to "So This is Love". Hosted by the lead princess herself.
Hollow Bastion
Twighlight Town
Minnie's House - a look-around place where you can encounter Minnie.
Daisy's House - a look-around place where you can encounter Daisy.
Disney Princess Midway Mania! - This is a Disney Princess parody of Toy Story Midway Mania!.
Destiny Lagoon
Ariel's Grotto - Meet and greet Ariel in this spot.
Ariel's Underwater Adventure
Flounder's Flying Fish
Scuttle's Scooters
King Triton's Concert
Destiny Islands
Princess Jasmine's City
Jasmine's Palace
Jasmine's Magic Carpet Coaster
Aladdin's Enchanted Passage - a walk-through attraction based on the film.
Enchanted Forest
Snow White's Grotto - Encounter Snow White and make a wish in her well.
Snow White's Mine Train - In this Thunder Mountain Railroad-styled ride, ride a train (with an mine engine pulling cars) that goes over the hills and through the tunnels. This is hosted by Snow White.
Sleeping Beauty's Courtyard - Encounter Princess Aurora here.
Belle's Castle - Look around the castle, encounter Belle, and be part of her film-based story told by Lumiere.
Belle's Village - Explore the village and meet the villagers you see.
Pocahontas River Ride - Row a canoe around the riverbend and see various live forest animals. Also, hold on tight for the waterfall. This is hosted by Pocahontas.
Pixie Hollow - Imagine you are in fairy size and meet and greet Tinkerbell and her fairy friends here.

Pixie Fairygold Drop - a Pixie Hollow parody of Toy Soldier Parachute Drop with Rosetta's Fairygold's instead of Parachutes.
Coronation Kingdom
Rapunzel's Tower - Walk through the tower and encounter Rapunzel.
Rapunzel's Gold Lantern Viewing Boats - As you ride the boat, you will see lots of lanterns flying by while the music plays "I See the Light".
Frozen Ever After
Elsa's Ice Palace
Olaf's Ice Rink
Restaurants
Cinderella's Royal Table
Snow White's Dream Treats
Ariel's Under the Sea Restaurant
Be Our Guest Restaurant
Jasmine's Oasis
Tiana's Palace
Alice's Tea Corner
Aurora's Once Upon a Dream Restaurant
Kairi's Radiant Garden
Rapunzel's Tower (also an attraction)
Elsa's Relaxing Palace - Order cool desserts and beverages from everbody's favorite snow queen. Inspired by Jessie's Snack Roundup from Toy Story Land.
Shops
Princess Dream Memories - Buy some Disney Princess stuff in this store.
Part of Your World Treasures - Buy some treasures from the based film, including Ariel dolls.
Kingdom Hearts Shop - You can buy Kingdom Hearts related merchandise here, including Keyblades, costumes and accessories, plushes, and manga.
Agrabah Bazaar
Bonjour! Village Gifts
Belle's Library - Unlike a regular library, you can buy books in this shop.
Tinkerbell's Toy Shop - Buy stuff Tinkerbell made in this store.
Queen Minnie's Carriage - This carriage has merchandise for everybody to buy. It is a parody of Andy's Engine from Toy Story Land.
Entertainment
Esmeralda's Festival of Fun
Mulan's Fighting Tutorial - Learn fights and stunts from Mulan.
Tiana's Showboat Jubilee - Join Tiana, Naveen, Louis and their performer friends, as they perform jazz music and songs from the based film.
Meetable characters
Disney Princesses
Snow White
Cinderella
Alice
Aurora
Ariel
Belle
Jasmine
Pocahontas
Mulan
Kairi
Tiana
Rapunzel
Merida
Anna
Elsa the Snow Queen
Elena
Moana
Disney Fairies
Tinkerbell
Rosetta
Fawn
Silvermist
Iridessa
Vidia
Periwinkle
Other girls
Minnie Mouse
Daisy Duck
Clarabelle Cow
Webby Vanderquack
Gosalyn Mallard
Clarice
Wendy Darling
The Fairy Godmother
Flora, Fauna, and Merryweather
Morganna Macawber
Perla and Suzy
Nala
Kiara
Perdita
Marie
Jane Porter
Gaston's Girls
Esmeralda
Megara
Melody
Namine
Kim Possible
Sally Cerera
Sofia the First
Eilonwy
Boo
Celia Mae
Princess Calla
Sunni Gummi
Female Villains
Evil Queen
Maleficent
Cruella
Madam Mim
Lady Tremaine
Anastasia and Drizella
Magica DeSpell
Morgana
Madame Madusa
Ursula
Yzma
Zira
Larxene
Mother Gothel
Important males
Mickey Mouse
Donald Duck
Goofy
Pluto
Horace Horsecollar
Sora
Riku
Roxas
Prince Charming
Prince Ferdinand
Prince Phillip
Prince Eric
Prince Adam
Aladdin
Genie
Abu
John Smith
Meeko
Quasimodo
Clopin
Hercules
Shang
Mushu
Ron Stoppable
Peter Pan
Terence
Naveen
Louis
Flynn Rider
Darkwing Duck
Kristoff
Olaf
Trivia
Community content is available under
CC-BY-SA
unless otherwise noted.