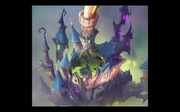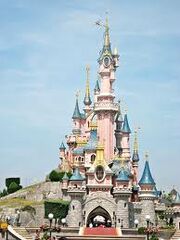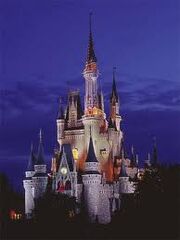 This attraction in Disneyland New York City is a mix of 3 castles. Dark Beauty Castle from Epic Mickey,Cinderella Castle from the Magic Kingdom,and The Sleeping Beauty Castle from Disneyland Paris.This attraction takes you through scenes of Walt Disney's life.
Ride Summary
Ride Line
There is no line because you just walk in. There is a turn-style to reduce crowds.
Ride
You walk in and there is a picture frame on the wall of Walt Disney as a little kid.The painting comes to life and Walt is seen drawing pictures of a rabbit and crumbles up a picture of a mouse. You walk along and their is a picture of him on Christmas Day unwrapping a camera which also comes to life. A closed door opens and you go inside a room and Walt is playing a film with a rabbit in it and the film is called Poor,Papa! In the next scene Walt is yelled at by men who throw the cartoon at him! The cartoon then comes to life and the rabbit hops around saying, Hi i'm Oswald! You keep walking and Oswald is taken away by a big hand that comes out of the wall.Walt then makes a new cartoon with a mouse in it named Motimear mouse and a dog named Dippy Dawg. Along with Mortimear's girlfriend,Minnie. There are several more scenes after that.At the end Walt,Mickey and Oswald hug and closed doors open. The famous Disney song If You Wish Upon A Star is heard upon leaving.
Mechanics
Animatronics are used in the attraction but the drawings that come to life and the picture frames turning into real scenes are a secret.
Background Information
Community content is available under
CC-BY-SA
unless otherwise noted.