Muppet dress up studios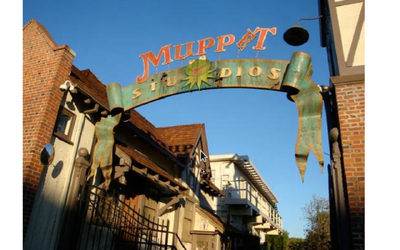 is a muppet themed park.
Contents
1 Costumes
1.1 Sets in building 1
1.2 Sets in building 2
1.3 Stores
1.4 Notes/ Trivia
1.5 Season changes
Costumes
The costumes were made for kids to explore the building, because you can make your own five minute muppet movies in front of the sets.
Costumes:
Kermit
Miss piggy
Fozzie
Gonzo
Camilla
Dr. Teeth
Floyd Pepper
Janice
Zoot
Animal
Lips
Scooter
Rowlf
Bunsen
Beaker
Sam
Crazy Harry
Swedish chef
Muppet newsman
Rizzo
Lew Zealand
Link Hothgrob
Dr. Julius strangepork
Beauregard
Mahna mahna
Snowth
Marvin Suggs
Nigel
Trumpet girl
Penguin
Pops
Jim
Uncle deadly
Clifford
Johnny fiama
Sal minella
Dr. phil van neuter
Sweetums
Thog
Statler
and Waldorf
Sets in building 1
These are the muppet sets where you can film your muppet movies. Before you step in them there's a line of different for characters to be in. Also there's a screen that selects the characters that can enter the sets.

Sets in building 2

Store
Across the street is the store where you can buy all of the costumes, and change in the changing rooms. You can also buy the palisades figures that are being resold. The movies that you filmed from the previous buildings are on CD's that you can get.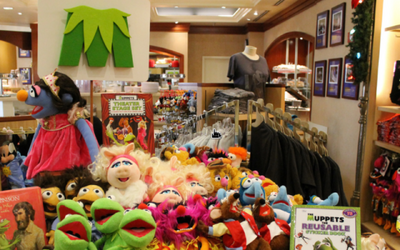 Trivia/ notes
There are enough arches to fit all one of 31 characters, while the electric mayhem are in the pit, and statler and waldorf are in their box and gonzo comes down from the title card.
In veternarian's hospital, there is another character for you to operate on.
In the electric mayhem, you pretend to play the instruments, and sing for real while the instrumental music plays.
In gonzo the great, you can lift up a fake anvil, ride into statler and waldorfs box and get hooked on a zipline when your shot out of a cannon.
The backstage area is based off of the muppets 2011.
Most of the other sets are based off of the palisades playsets.
The costumes were based off of the xbox market place.
For each set, only one set of characters can enter it.

Season changes
On halloween the sets are decorated with cobwebs and pumpkins. and the music is halloween styled.
On christmas the sets have mistletoe, santa hats, and present boxes lying around.
On easter there are easter baskets and eggs lying around.
In summer there are towels, plastic drinks with umbrellas, and beach chairs around.
Community content is available under
CC-BY-SA
unless otherwise noted.