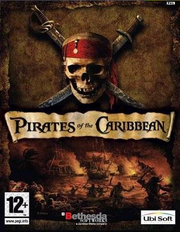 Pirates of the Caribbean is a 2003 computer game for Windows and Xbox, developed by Akella and published by Bethesda Softworks. The Xbox version was the first U.S. console game developed in Russia. A PlayStation 2 version was also originally in development, but was later canceled.
An unrelated game by the same name was also released for mobile phones, as was a Game Boy Advance game.
Plot
After a fierce storm in 1630, Captain Nathaniel Hawk arrives on the island of Oxbay. Nathaniel's first mate is retiring and he needs to spice things up a little. As he leaves Oxbay the French attack the colony and capture it. He manages to slip away and warn the English Governor on Redmond Island that Oxbay is attacked. The governor then sends Nathaniel to run several quests until Nathaniel meets an old inventor who helps him find a treasure that could defeat the evil ghost ship, the Black Pearl.
There are many side quests in-game, for example, Nathaniel helps the Dutch colonist find several lost children.
Modifications
The game Pirates of the Caribbean was released prematurely in order to coincide with the release of the film Pirates of the Caribbean: The Curse of the Black Pearl. Numerous fans of the original Sea Dogs franchise were disappointed to find that the gameplay suffered because of its early release.
As a result modifications of the PC version of Pirates of the Caribbeanhave begun springing up. These modifications alter the content and gameplay in order to make, what the modifiers consider, a more palatable game. These modifications often add music from the Pirates of the Caribbean trilogy to the game as well as characters, ships and locations. One of the most popular modifications adds a more accurate duplication of the Black Pearl to the game. These modifications are becoming increasingly common due to the apparently simple coding language of the games engine.
Certain modifications either decrease or increase the difficulty of gameplay. Modifications are also created to make the sailing a more accurate simulation, rather than than the simplistic arcade-style sailing that appeared in the original game.
Characters
Captain Jack Sparrow
Angelica Teach
Black Barty
Will Turner
Elizabeth Swann
Tia Dalma
Marty
Cotton
Blackbeard
Captain Hector Barbossa
Davy Jones
Community content is available under
CC-BY-SA
unless otherwise noted.