The Coolest Coaster Ever is a rollercoaster at Phineas and Ferb World and Disney's Hollywood Adventure Park at Disney Universe Resort.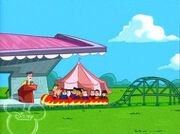 Ride Summary
Queue
Guest enter and take a tour through the Flynn-Fletcher house and end in the backyard. They enter a tent in the backyard and watch the pre-show.
Pre-Show
This incredibly short pre-show involves and animatronic Phineas and Ferb introducing the ride and giving saftey instruction before boarding.
Ride
After the pre-show, guests exit the tent and board the coaster cars. The ride is coaster throguh downtown Danville. As the coaster goes around the track, the song "Rollercoaster" plays on speaker inside each vehicle.
Voice Cast
Phineas - Vincent Martella
Trivia
Height restriction: 4 ft 6 in
The ride lasts approximately 3 ½ minutes.
There are 4 coaster cars
Cars are 6-row, 2-seaters. One car seats 12 guests.
Saftey restraint: Lap bar.
Fastpass and Single Rider available
Community content is available under
CC-BY-SA
unless otherwise noted.